Show Us Your EDC!
The following people entered in the EDC contest for a $150 Amazon gift certificate simply for showing off their Every Day Carry.  The winner of this contest was Vagabond. Congratulations!
Holiday EDC – KG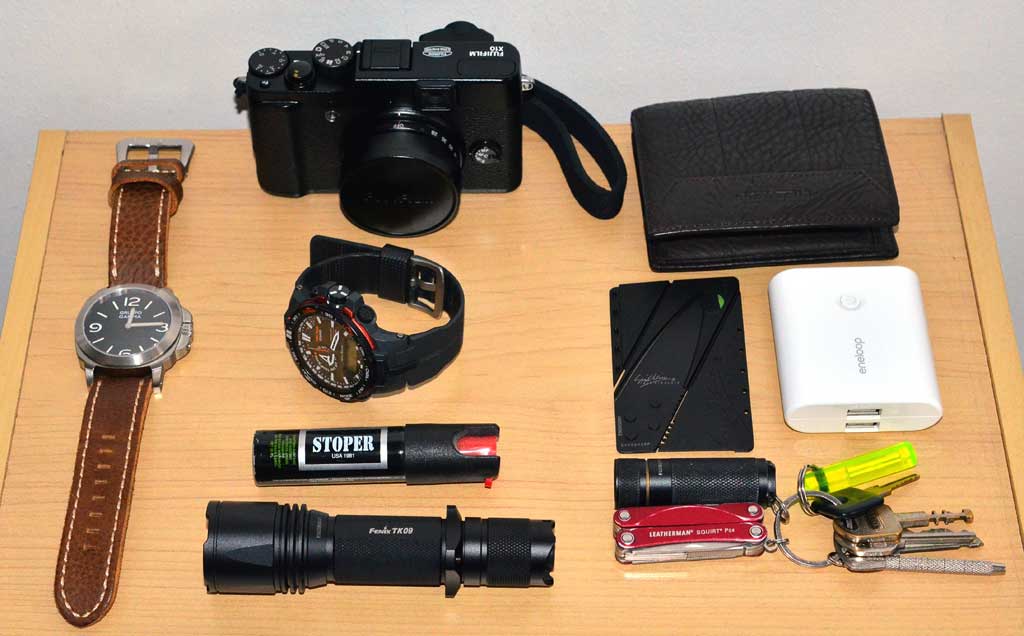 Watches – alternate between them. A Gruppo Gamma homage for something dressier and a Casio protrek PRW-6000 in outdoors.
Camera – Fuji X10 – it is a holiday anyway.
Stoper Pepper spray – maximum strength with 8ft range.
Fenix TK09 – puts out 450lumens for when i need more light, and being a tactical light it can also be used as a weapon in hand to hand.
Wallet – can't leave home without it.
Iain Sinclair card sharp – goes into wallet. At least on a body search by corrupt cops no weapons would be found.
Eneloop mobile booster power pack – in case my mobile runs out of power.
On keychain – Fenix E15 backup light that puts out 170 lumens
Nite glowring – contains a tritium tube so i can find my keys in the dark.
Once in a while I will alternate both the Fenix E15 with a Fenix LD01, and the Leatherman Squirt PS4 with a Victorinox SAK classic 58mm just for a lighter load.
---
Pocket Dump by Brock
Wallet: Some Generic wallet I bought 10 years ago.
Knife: Spyderco Tenacious, great little knife, on occasion I bring a Leatherman Wave or the Coldsteel Recon depending on what I need and if I'm going to school that day.
Phone: With authentic battle damage in the form of a screen crack.
Flashlight: On my key chain, the Four Seven Mini which takes AA's so no annoying cr123's or any of that nonsense to deal with. It's pretty budget focused at $30 so it doubles a weight when I need to chuck something at my roommate.
Watch: Casio G-Shock something or another. It's been so long I don't remember the name
Carry: Walther PPK, honestly not the most practical carry in both price and weight, but damn, isn't that the sexiest pistol you've ever seen? I carry a Springfield XDM when I'm not going to school.
---
Purse Dump by Hugabug2
I am Hugabug2 and a 63 year old soon to be grandma. I have an advantage over men because I get to carry a purse, which holds so much more than men's pockets. When I saw your article I immediately unloaded my purse and took a picture to show what I carry everyday. Yes, I have built up some muscles lugging all this "stuff" around.
Merle Norman Makeup Bag
Rand McNally Texas State Map & Road Atlas from Reader's Digest
Apple iPhone 4
Merle Norman Sunscreen SPF 50 & Mary Kay Hand cream SPF 4
Merle Norman lipstick in a vintage lipstick holder with mirror
Tooth Pics
5 ink pens, one for each compartment since I can't ever find one when I need it J
M Tech Folder Knife – 440 stainless
Plastic Credit Card Knife
Alka Seltzer
Vintage Pill Box containing: Blood Pressure Medicine, Enteric Aspirin, Simply Right Ranitidine (Sam's) & Allergy Medicine (Walmart)
Chapstick and Burt's Beeswax Lip Balm
Hall's Lemon Flavored Cough Drops
Crest Glide Dental Floss
Strike Anywhere Match and Bic Lighter
Complimentary Hotel Notepads – 4 (see # 9)
Classic Ear Plugs
8 Band Aids
Zee 3-in-One Antibiotic Ointment
Complimentary Hotel Handi Wipes – 7
Mighty Brights Magnifier with Light (and carrying case)
Complimentary Hotel Sewing Kit
Scribe NF00349 Flash Light
Complimentary Insta Clears for Eye Glasses
Claritin Allergy Medicine
2 Pepper Sprays – one is Punch II M-2, pink one is not marked
Complimentary flat eye-shades fits any glasses
Fox 40 Whistle and Lanyard
Canniks Model 800 Stun Gun with carrying case
Keychain holding: Hand cuff key and shim pick, mini flashlight, Army can openers (P-51 & P-38), Gerber 22-01769 Shard, Swiss Army Knife with scissors, nail file and knife blade
---
Gear List by BrianCO
I rotate my EDC watch between my
Timex Expedition– with a compass stopwatch, countdown timer, and my Timex standard watch,
Thrunight TN12 2014 1, 10, 500, 900, & 1000 lumens setting w/ strobe,
Blistex
For my firearm I rotate depending on the situation between my Ruger LCP .380 6+1 w/ Veridian Green Laser and a Veridan Smart Pocket holster, or my Kimber Ultra Carry II 45 ACP, 7+1 w/ a DeSantis Pocket Tuck holster
2 spare Kimber Mags 7 rds
---
Gear List by Vagabond
 Wallet by Dickies, It can include a wallet chain in less desirable areas.
 Gerber Paraframe knife
 Glock 19, used with a Hot Shots holster (not pictured)
 Keys to the Bug out Jeep
 ResQMe car escape tool and seat-belt cutter
 Klarus Mi10 flashlight (AAA batt).  This thing is bright and has taken a beating without issue
 Nebo Tactical flashlight
 Trusty Zippo lighter
 Leatherman Rebar, I keep a Swedish Fire-steel in the holster
 ESEE-3 fixed blade knife
 Skystorm Leatherworks custom sheath designed for scout carry on my search and rescue deployments.  Contains another attached fire-steel.
 Shemagh or standard bandanna
 Silver Eagles, just in case…
---
Kodiak EDC
Standard 550 paracord bracelet with shackle clasp.
Nokia Lumia smartphone
Bic Lighter
Bushnell TRKR T225L flashlight
Backup Duracell AAA
Cash
Camillus Les Stroud S.K. Desert folding knife (includes ferro rod)
First aid kit
Handmade leather EDC kit.
---
Simplified EDC
Here's my stripped down 365 day a year carry:
Kahr CW 380, buffalo bore +p lead free in main mag then 100 grain flat nose in spare (great value and smallest well built pocket pistol i could find).
Metal pen: Elite Tactical with a glass break (cheap and does the job).
Usually a pen style flash light, but i lost it gardening (waiting on the new one to arrive).
Knife is a Kershaw Emerson 6014TBLK (cheap, reliable open, sturdy), retired my Spyderco Matriarch for the Emerson when i moved to Michigan as the laws are "messed up".
Watch: Seiko Premier Kinetic: Haven't taken this off in 8 years, sapphire crystal display, no battery, keeps accurate time and seriously strong (slid down asphalt, been in sand, ocean, lakes rivers, motor oil, constantly banged on items and never scratched the glass or broken).
Wallet: Trayvax – very well made, rfid blocking, metal, light weight, built in bottle opener, it is allowed on planes, its just fabulous.
Black hawk riggers belt 2″, may be subbed for a Galco dress belt depending on the occasion.
And not pictured is my phone a Nokia Lumina Icon, 2 days of charge, a great camera and good gps strength.
I sometimes carry more and go through lots of small gear items but these are the loyal few. Feel free to re-word / edit etc as necessary.
---
 Madison Preppers EDC
Wallet with DL, CCW permit, Retired Law Enforcement ID and Badge
Ruger LCR .357 Mag with 5 rounds of Hornady Critical Defense .357 Mag 125 gr. FTX
Tuff QuickStrip with 5 rounds of Hornady Critical Defense .357 Mag 125 gr. FTX
International Handgun Leather speed strip pouch
LG Optimus F7 Smartphone
Casio 3230 G Shock watch
County Comm A&P key ring

ResQMe car escape tool and seat-belt cutter
House key
Mini light
Vehicle key fob
Vehicle key

Streamlight PT 2L Flashlight
SOG Aegis assisted opening folding knife
Gerber EAB razor knife with emergency cash in clip
Adventurer Survival whistle on paracord necklace
SurvivalBeltKit- heavy metal tin and black nylon belt pouch

Randall's Adventure & Training Survival card
County Comm black Delrin AAA battery locker with extra battery and mini compass in lid
Potable Aqua tabs (2)
SOL fire tinder (4)
Large safety pins (2)
Derma-Safe razor knife
Large needle under duct tape on the lid of tin
Gerber Curve mini tool
County Comm Maratac AAA flashlight
Band-Aid strips (2)
County Comm mini Widgy pry bar
County Comm stainless steel peanut lighter
---
The Traveling Auditor – EDC
Glock 22 – Loaded with Federal Hollowpoint in a Glocktech MIC holster
Spyderco Perrin Street Bowie
Victorinox Waiter – Secret Order of Swiss Army Knives
Brass K&M Matchcase – Made in Idaho
AB First Aid "1010 Fogg First Aid Kit" – modified
GOAL ZERO Nomad 7 Solar Panel and AA/AAA Battery Charger
Quartet Green Laser Presentation Pointer
Custom Marlin Spike
Assorted tools – magnetic probe, mini vice grip, pocket pry bar, sewing kit, gorilla tape, Bic lighter, super glue, can opener, hex bit extension, tape measure, 33 feet of Para cord, micro light
Assorted first aid – CPR barrier, lip balm, ear plugs, antihistamines, Tums, Skyn condom
Other – USB jump drive (x2), business cards, tide stick, lotion, comb, sharpie, assorted charger cables, 3 Eagle Creek Quarter Cube Pack-its
---
Canadian EDC
---
 Bama Girl's EDC
Plastic mini waterproof case with Tylenol packet, antibiotic creme, 3 Curad butterfly strips and 2 alcohol pads
EMT assisted opening rescue pocket knife by Ridge Runner
Aluminum pill capsule with 3 days meds
Dental Floss
Mini Sewing Kit from Dollar General
2 Xpect First Aid Adhesive strips
Purple Bic Lighter
Pencil for notebook
Colgate mini toothbrush/pick
Mini roll of duct tape
Leatherman Wingman multitool
Fenix PD22UE 510 Lumens Flashlight