Even though they have a lot of uses, tactical knives are mainly used for self-defense and military purposes.
It is important to know the uses of a tactical knife before thinking of purchasing one. A tactical knife is made to be readily available and is capable of being used for a range of activities. Tactical knives are also known as "combat knives" for they can be used for self-defense and as a military utility.
A combat knife is purely designed to use as a military utility and has a rugged and rough look to it. They usually have a fixed blade or a folded blade, depending on the way it will be used.
Civilians tend to carry a folded knife, as it is easy to hide for the sake of government laws and regulations. Whereas, military personnel usually carry fixed-blade combat knives.
The few things you need to consider before actually buying a tactical knife are: if you want the blade to be fixed or folded, the length of the blade, and the blade design. However, there are other factors you need to consider as well such as the design of the handle and the type of steel used to make the knife.
There are expensive Benchmade knives that you can consider looking into as well.
The Guide to Purchasing Tactical Knives
Fixed Blade or Folding Blade?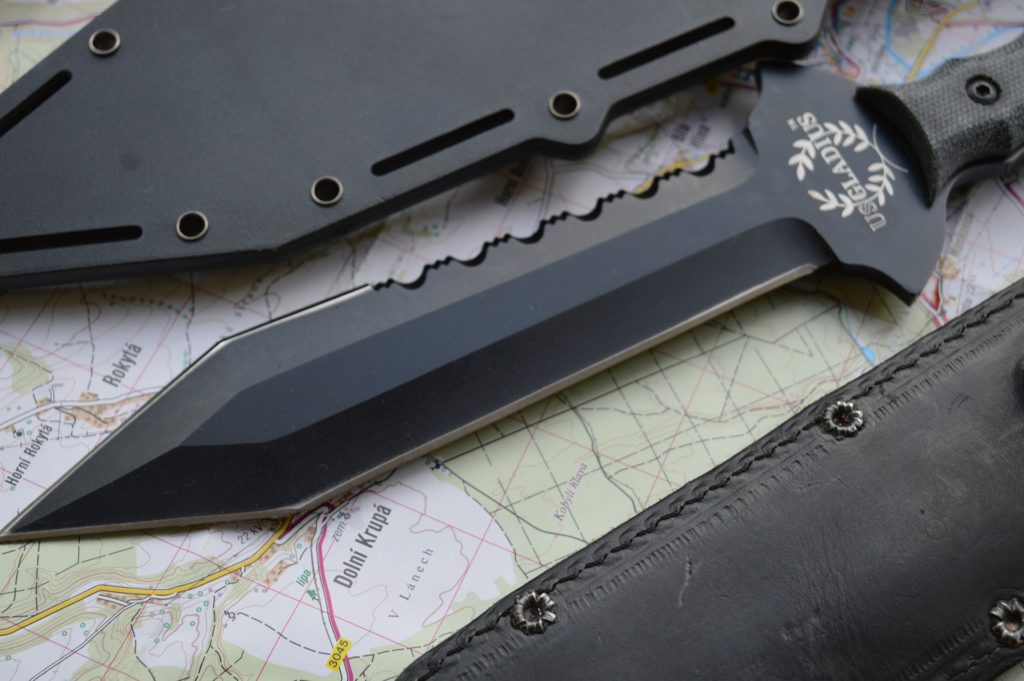 It's better to have both fixed-blade and folding-blade tactical knives. The first thing you need to consider while buying in between these two is to be sure which kind you prefer. There are advantages and disadvantages for both kinds.
Fixed-Blade Knives: the blade of a fixed-blade knife sticks out, hence it's stronger than a folded blade's knife. However, for having a fixed blade it is often hard to carry or conceal.
Gerber Gear Strongarm - Fixed Blade Tactical Knife for Survival Gear - Coyote Brown, Plain Edge
Tactical Knife: The Strongarm knife features a coyote brown handle, plain edge and full-tang 420HC steel blade
Survival Knife: This durable knife has ceramic blade coating and rubberized diamond texture grip
Survival Gear: This survival tool can break through hard surfaces in emergencies with the striking pommel
Multiple Mounting Options: 4 mounting pieces and sheath can be used for mounting on MOLLE, belt or in drop-leg fashion
Gerber Guarantee: As a testament to our unrelenting commitment to quality and service, Gerber is proud to offer a limited lifetime warranty on all products
Folding-Blade Knives: they are the opposite of fixed-blade knives. They allow its user to fold it in half but require help in the opening mechanism. These are useful for anything except for self-defense purposes. This is because the blade folds in half, and it is not as sturdy as a fixed blade knife. However, on the bright side, these usually come in small sizes so you can easily carry and conceal them in your pockets.
You need to know that carrying a knife can be illegal in some states, so go through your state's laws and regulations to decide what kind of knife you want to get yourself.
Length of the Blade
The length of the blade solely depends on the circumstance you're in. if the blade is longer than your knife, you can use it for self-defense from a greater distance. This means it'll be harder to use at closer distances. Plus it'll be harder to conceal it as well.
Short-bladed tactical knives are more convenient to use as they are easy to handle and are lightweight. The shorter blades need near proximity to be successful in self-defense.
As a result, tactical knives with fixed-blades may have longer blades, whereas folded-blade tactical knives can have shorter blades. But, for your information longer blades are ideal for self-defense, while shorter blades are suitable for simple mission activities.
Type of Blade Steel
The type of steel that is used to make the knife is very important. The two categories that this element falls under are carbon plain tool steel and stainless steel.
A knife should be bought based on the steel's toughness and strength. The strength of steel is determined by how far it can bend without breaking and goes back to its original state.
The toughness of steel is determined by how difficult it is to chip and crack the steel. Strong steel is considered to tolerate extreme forces exerted on it, without leaving serious damage.
In addition, "high carbon plain tool steel" is typically stronger and more durable. Moreover, it's easier to sharpen when needed due to a lack of chromium carbides.
However, it requires more care while using it. It can't be held on its edge as much as stainless steel can. And it requires more maintenance to be kept corrosion-free.
Stainless steel isn't as strong or tough as carbon plain tool steel, and it's harder to sharpen. But, unlike carbon plain tool steel, it doesn't require much maintenance and care.
The Perfect Knife Handle Design and Material
The design of the knife handle is important because of its ergonomics. When choosing a knife, it is very important to check if the knife feels comfortable in your hands. Check if the size fits your hands and if the grip feels easy.
Some prefer holding the knife up during self-defense, others keep it down. However, it is extremely important to feel in control and comfortable while holding the handle during emergencies.
However, the design of the knife's handle differs from person to person and their preferences.
The material of the handle is extremely important as well, for gripping purposes. The materials are divided into two kinds: natural and synthetic. For natural handle materials, there are exotic hardwoods and stag antlers. For synthetic handle material, there are Micarta, G10, Delrin, and Kirinite.
The natural materials are aesthetically pleasing, whereas the synthetic ones are tough. However, Kirinite can be both aesthetically pleasing and tough.
Natural materials are chosen because they look nice, but the disadvantage is they absorb a lot of moisture which can result in decomposition. Whereas, synthetic materials don't absorb moisture and are tough.
The texture of the handle's material is very important because if the material is too smooth it can slip and twist while using it. So, a material with texture is required to ensure a good grip.
Get your Knives Working!
You can conclude from this tactical knife guide that the few factors mentioned above are very important to consider before buying. You will be winning if you follow these tips to get your knife.