Editor's Note: Always a subject I wanted to know more about.  
Ready to join the mushroom movement? There are lots of good reasons to grow mushrooms at home. They're tasty, nutritious and they may even be good for our brains. But they can be pricey at the grocery store. Mushroom hunting in a forest near you is fun but labor-intensive. It can also be dangerous because edible varieties often have poisonous look-alikes. Growing your own mushrooms could be a good alternative.
To get started, you need to make a few decisions. First, figure out which type of mushroom you'd like to grow. The experts say oyster or button mushrooms are the easiest for beginners. Shiitake mushrooms are also relatively easy. Second, you need to decide if you'll grow your mushrooms indoors or outdoors.
You can grow mushrooms indoors year-round. They need a dark, cool place to grow, such as a basement or crawl space. A dark drawer or cabinet will also do the trick. Here are the supplies you'll need (quick note: you can buy mushroom growing kits if you'd rather not assemble these materials yourself):
Plastic tubs or baking pan.
Mushroom spawn (these are mushroom seedings.) Purchasing from a supplier is the best route for beginners.
Growing substrate like compost, straw, sawdust or even coffee grounds.
Damp towel.
Spray bottle.
Place several handfuls of your chosen substrate into your tub or pan. If you're using straw or sawdust, you may want to pasteurize it to kill off any contaminants. Mix the spawn into the substrate and raise the temperature to 70 degrees (placing the pan on a heating pad works well). After 2-4 weeks, the spawn will have taken root in the substrate. This is called mycelium and looks like white fuzz. Drop the temperature to 55-60 degrees (you can do this by moving the pan to a cooler area). Cover the mixture with about an inch of potting soil, then spray the mixture with water until damp. You can place a damp towel on top to retain moisture. Keep the mixture moist and cool, and you should see small mushrooms starting to grow in about three weeks.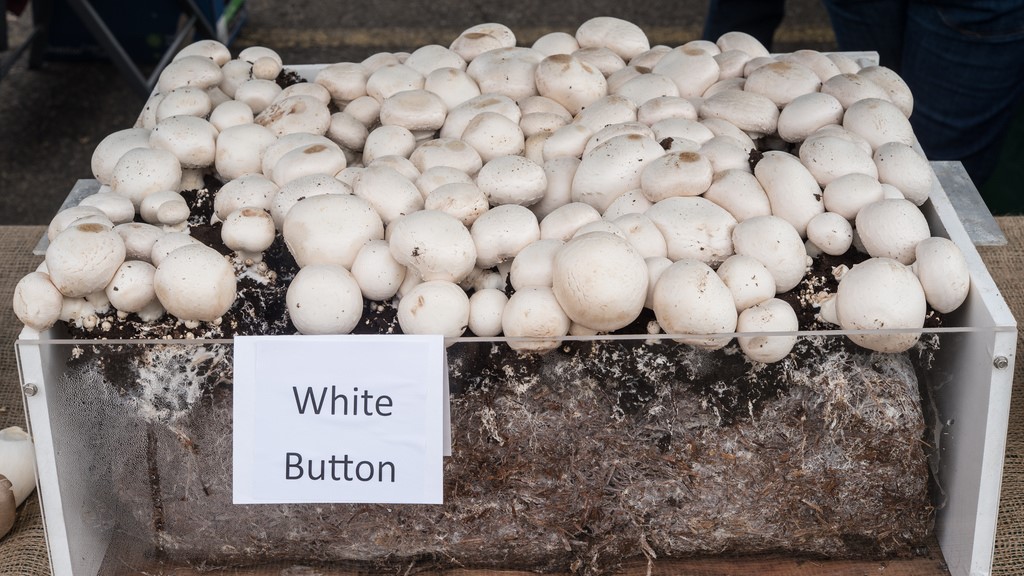 If you're growing mushrooms outside, you need to keep your local climate in mind. Mushrooms like cool, humid conditions, but it is possible to grow them in more arid climates. You just have to water them more often. Growing mushrooms outdoors also takes longer (six months to two years). Once they've started growing, healthy mushroom colonies can grow for years.
There are several ways to grow mushrooms outside. You can mix spawn with compost and let nature take its course. Another popular technique is the log method. Oysters and shiitakes grow especially well on hardwood logs. Finally, you can grow mushrooms in raised garden beds or in damp straw in shady areas in your garden. If you have pets, consider covering the plants, since some mushrooms can be toxic to dogs.
Whichever method you choose, you can grow your own mushrooms at home without a lot of fuss. Once you've mastered the basics, you can advance to all kinds of mushroom varieties. Along with saving money at the grocery store, you'll have the satisfaction of growing a tastier product yourself.
Cat Murphy is a gardening and landscaping writer, and outdoor extraordinaire. She enjoys cooking for family and friends and going on long hikes anywhere and everywhere in nature.
Be sure to check out The Prepper Journal Store and follow The Prepper Journal on Facebook!