Editors Note: Another guest contribution from R. Ann Parris to The Prepper Journal. As always, if you have information for Preppers that you would like to share and possibly receive a $25 cash award as well as be entered into the Prepper Writing Contest with a chance to win one of three Amazon Gift Cards  with the top prize being a $300 card to purchase your own prepping supplies, enter today.
Get In Shape
No, really. With absolutely nothing to your name, you can be better off than a quarter if not half the preppers with gear, land, and partners. Want a little 'for example'? How about the huffing and puffing we hear when folks run from the cold or rain? Or are forced to hustle to catch mass transit of some kind?
There's the muscle injuries and heart attacks that get warned about ahead of winter storms. There's a lesser publicized set of aches that even active homesteaders work through at the beginning of spring or late summer and autumn as we get back in to full swing – doing more than shoveling snow, poking in checking on things, hauling feed to the (usually) closer barn than to and around pastures. Every year, there are hikers who end up overextended and in distress.
We shake our heads at news stories when people put themselves in sucky situations. Let's make sure we're not one of them sometime in the future.
Get in Shape for WORKING
General physical ability can be helpful, and it's a leg up, for sure. However, there's gym fit and there's street-woods fit. Gear your "workouts" to things you'll be doing. You can also find exercises that directly relate to activities you expect.
Mix up your walking/packing/jogging/sprint surfaces. If you live rural and plan to cut cross-country if you're away from home, sure, focus on the "natural" surfaces around you. Don't ignore hardtops, but they're less important for one-time, single-digit day-count packing. If you live or work in a lot of urban environments, though, make your training more fifty-fifty.
Walk on the sides of ditches and in loose leaves to build your ankles up. Sandy beaches offer a variety of challenging textures that can also help seriously strengthen legs and ankles depending on where in the tide line or above it you exercise and run. It'll be helpful in snow and ice as well, and in tilled gardens or hand-harvesting hay and grains and big bean plots.
Those strong ankles will also be an aid in keeping your balance anytime you lose it – like if you anticipate ever getting shoved or tripped.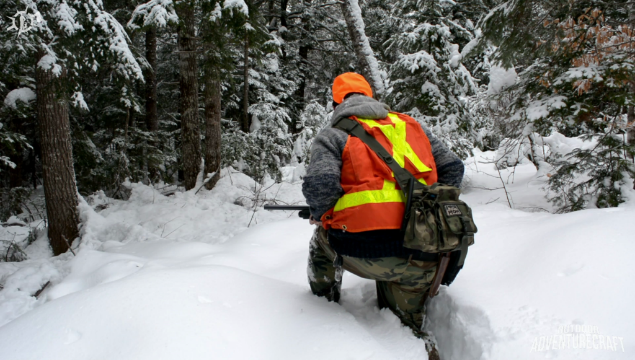 If you live somewhere floods are a risk or where you get a fair bit of snow, start plowing through some water if any's available. You may be able to find times of day or parts of parks where you won't attract attention slogging through a little stream or knee-deep in lake, bay, or marsh water. You may also be able to find an affordable YMCA or similar pool, although you'll be "stuck" with waist-high instead of the more-unique pulls of calf- and knee-high slogging. (Please watch for snakes that will be annoyed with you and wear good sneakers.)
Go slow – this isn't a sprint, it's preparing you for winter work and bug-outs, not a footrace. Steady, certain steps are the biggie, and developing the muscles. Don't be too ambitious at first. Rushing is a broken ankle or wrist and be careful waiting to happen. Be smart in cool weather – hypothermia doesn't require freezes.
You can find gym equipment or band workouts that can help you build muscles for raking and shoveling, swinging an ax, or hauling and pushing carts and wagons. Bands require an investment, and there are contrasting opinions about them, but they're affordable and compact – exercise anywhere.
Boxing and kick boxing exercises abound on the internet. Both build an enormous amount of core strength.
A gallon of water weighs about eight pounds. (Start with a half-gallon or liter, please.) If we get milk, we can get weights at home without spending an extra penny or having to build in time to go somewhere. When you're ready for more, look around your environment for pipes, golf clubs, sturdy pruned limbs, etc., that can be used to create a bar. (Duct tape them – sliding weight, even "just" 8-16 pounds, is a recipe for an injury.)
Do Exercises Correctly
Do weight, stretching, and isometric exercises slowly. Use a mirror to check your form. When your form is muscle memory, close your eyes and concentrate on the feel.
Bucking, rocking, kipping or whatever you want to call them are not only cheating yourself. They're also an injury waiting to happen. You also work more of your muscles, longer and harder, by working them slowly.
Build the Right Strengths
Start with low weights and high reps. Keep those high reps and slow motions even when you advance in weight. Practice holding at each point, and stopping midway for holds, too.
There are the instant-action parts of homesteading and camping/packing/paddling, absolutely: that moment when you heave the pressed hay up and over, to stack or to carry, or slinging a bag of feed up and over your shoulder, shoving off rocks or getting flipped backwards. There are "power pops" when you stress your tool maintenance guy and your body taking bypass pruners to tough wood and at funny angles.
However, many of our tasks are endless repetitions – raking, forking, shoveling, paddling, hauling a rope of a beaver slide or pulley lift to get hay or straw to a loft or hoist an animal for butchering.
In low-power or no-power situations, and low- or no-noise situations, there's also hand sawing – which is a fast action, but a lot of it. There's things like rocking a garden weasel back and forth, and push-pull lawn cutting with a rotary mower. There's the bent or crouched schnick-schnick-schnick-turn-toss-schnick-schnick-schnick of harvesting grains or hay or straw, or gathering small branches or vines, or trimming down tree feeds for livestock.
Do, absolutely, work some of the hand-and-footwork speed drills, too. There are times when higher weights and quick motions do come into play.
I have to have the "snatch" strength to catch that ladder before it tips, or to snag a tree when rotting stuff gives way underfoot, to help somebody on steep trails or slipping on ice, or the harness line when my goofy dog accidentally bounces another dog over the edge of something (most recently it was her brother off a boat dock).
My medical supplies do me no good if I can't heave my heavy dog over my shoulder and get it somewhere, or drag my family and partners out of something or into something. Maybe it's a house fire, maybe they slipped off a bridge, maybe a bookshelf tilted. Maybe it's a large animal, and being able to slam and brace and hold a gate to keep something out and away from them.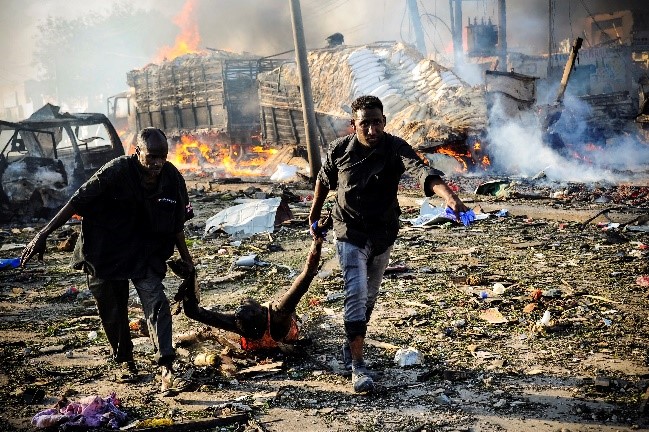 Even so, most of those have an endurance aspect. Catching for a moment is only half the battle.
I have to sustain that hold, and I have to be able to pull without losing my grip. I have to scramble with that hold sometimes, or not lose my footing.
Maybe today there's an earthquake or tornado that starts a fire, some nut-job shooting, or a 500-year flood strikes. If I can't carry or drag my loved ones all the way out of harm's way, I lose them.
Maybe today's task is sitting on the ground or edge of something, digging in heels, straining against a rope and "climbing" to haul something to a loft or my kid/partner/lover/parent out of a well or somebody's deer pit. If I can't hold onto that timber we're hauling, if I slip as belay anchor or lose my grip on that rope, I hurt somebody.
Initial adrenaline will only take us so far. It's worth getting in shape for.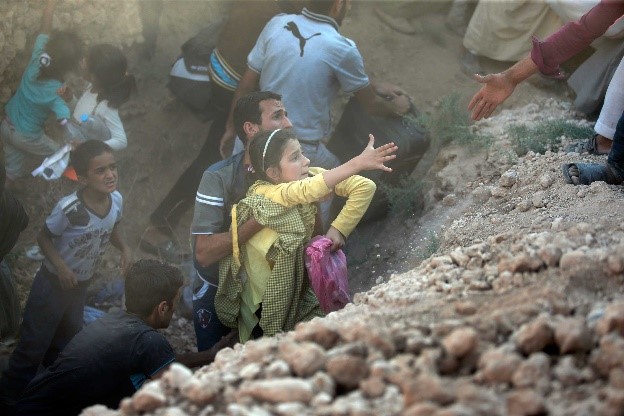 Prepare Your Body, or Prepare to Fail
All the gear in the world isn't going to help somebody who can't get out of a building or down the road, who can't escape a fire or flood, who can't evade a mob and then put enough distance between them to beat the police barricade lines.
The best bug-out location on earth won't help somebody who can't get to it and keep it going – who can't lift their kid and that fancy bag up over a fence, who can't build a shelter against cold, wet weather to keep their family from hypothermia, who can't lift enough water in big buckets to keep livestock and gardens watered, let alone bathe.
The expensive spotting scope and fancy rifle that found and took a deer doesn't help the guy who then can't get it up a hill or across the flats – at all, without injury or heart attack, or "fast enough" in some parts of the world where bears, hogs, and human scavengers like to check out gunshots.
Side Benefits to Exercise
Exercise is also incredibly good for the brain, both in combating stress and depression, and in sharpening our minds and senses. Tired bodies help us sleep better, with sleep hugely important to stress, recovery, mood, and decision making.
When you feel stronger and fitter, you'll also find your confidence increasing, which in some cases actually decreases aggression and combative attitudes. (Lack of confidence tends to lead to those small-dog yappy-snappy, argumentative people who take everything as a personal insult and a direct challenge to authority.)
That's going to make a disaster of any scale a whole lot easier to deal with, no matter how active or sedentary it is.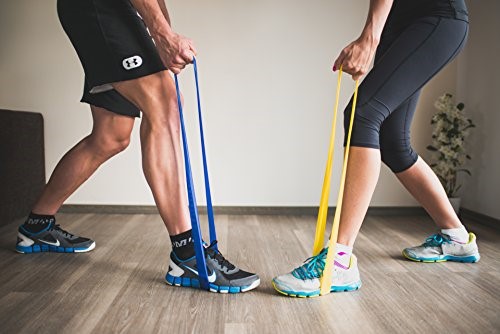 Prep for Retaining & Regaining Strength
If you're lucky enough to have a bunker, a storm cellar, or a tight compound, don't forget to stash ways to stay in shape while you're locked down. You only need a little space and some things that – besides bands – are probably already there. Make sure you also have a variety of exercises, stretches, and drills printed out and stashed.
Not only is endurance and raw strength important, and something that can be easily handled at little to no cost, work on flexibility. Exercises for seniors can be an excellent source there.
Physical therapy exercises are beneficial as well. Don't forget to print up what they apply to. It can range from post-stroke and nerve damage recovery, to knee replacements and torn ACLs, out to oddballs like whiplash and dislocated fingers and wrists. Not only are many actually pretty fantastic stretching, mobility, dexterity, and strength-building regimens, if there is an accident or injury, you're prepared for full recovery.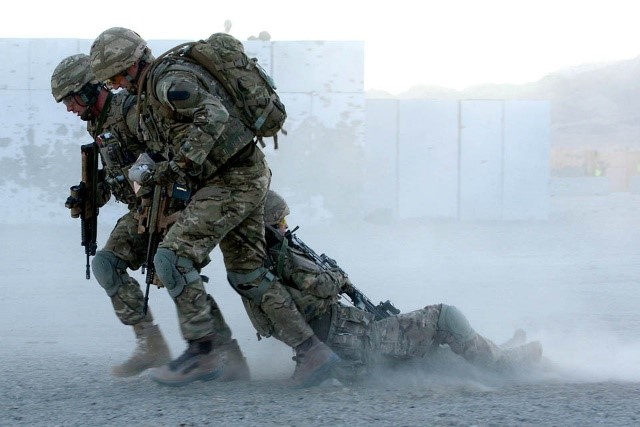 The One Irreplaceable Prep
Every disaster and evacuation, we hear of refugees surviving incredible hardships and long journeys, and people managing incredible physical feats to save their loved ones. But for every feel-good victory, there are losses. Not everyone makes it fast enough, far enough.
Increasing physical ability can be done in two, three, or four 10-20 minute sessions a day, a few times a week. It can cost nothing.
Some of it can be done pumping our fuel or during regular shopping trips, adding less time than we'll stand in a checkout line or lust over goodies behind glass. Some of it can be done one hand at a time, reading or scrolling the internet with the other. We can keep up with weekly shows/sports doing cals and Pilates and physical therapy on the carpet and kitchen chair, or using a bar hung from a sturdy doorway.
Your body is the one thing there is no backup for. There are no excuses. Not time, not money, not current physical limitations. We can get stronger, and by doing so, improve our chances of survival.
Follow The Prepper Journal on Facebook!