Last Updated on December 17, 2018
Editor's Note: Tis' the Season after all. This is a Guest contribution from Red J in the true Christmas spirit.
Gifts aplenty for the everyone!
For the Non-Preppers:
A small portable water filter is a dual-purpose item that could be used by hikers or campers, as well as the obvious use for survivalists.  Water purification tablets are an alternative.
A multitool is something that many people would find handy.
If the person loves to read, a prepping novel may be a good introduction to the prepping world without being pushy.  This could also lead to a discussion of why prepping may be wise when the person reads it.  The novel, One Second After, by William R. Forstchen, has opened the eyes of several people I know.
A book on securing one's home is an option.  How to Defend Your Family and Home: Outsmart an Invader, Secure Your Home, Prevent a Burglary and Protect Your Loved Ones from Any Threat Paperback, by Dave Young, an ex-Marine and law enforcement officer, is an affordable book that's very highly rated on Amazon.
Practical gifts include a fire extinguisher or flashlight and extra batteries.  A headlamp is an alternative to a flashlight.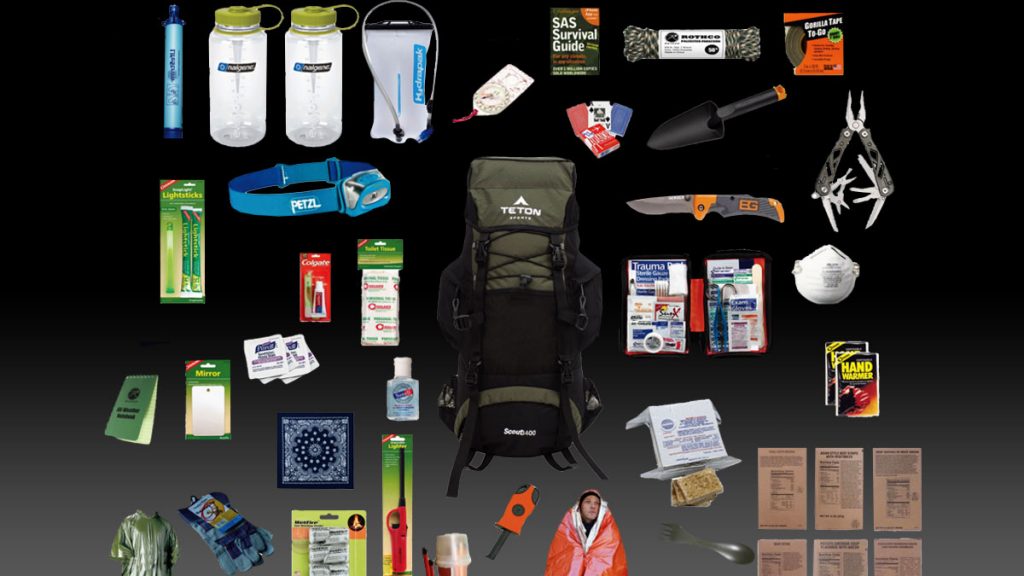 A 5-gallon bucket with some of your favorite survival foods that will last long term, would be a good gift for someone open to prepping, but who has not taken this step yet.
A first-aid kit – believe it or not, some homes do not have a first-aid kit.  Those not interested in prepping would see this as a practical gift that could save a trip to the store when a simple medical emergency arrives.  You could give a first aid book instead.
If you know someone who commutes to work, consider putting together a small kit for their vehicle trunk, with items like a small flashlight, two 12 ounce water bottles (perhaps with a few drops of bleach, if you explain that it helps keeps the water safe for a while), a few trail mix bars or protein bars, a cap and gloves (especially for those in colder climates), a lighter and/or matches, a candle or two, a jackknife, and perhaps a pepper spray ("Just in case you need to defend yourself.")  When I got engaged to my wife, my future mother-in-law gave me a similar kit which I saw as very thoughtful and practical.
Essential oils have become popular in recent years.  If you know someone who has a specific medical issue, you may be able to find and give essential oils for that specific health condition.
For Preppers:
This seems tougher to choose an appropriate gift because there is such as wide spectrum of preppers in various stages and prepared for different kinds of emergencies.  A gift card to a farm-home store or garden supply center in your area would be appreciated.  If you're truly stumped for ideas that would be appropriate for the prepper on your list, a gift card to Walmart or Amazon could be useful for anyone.
An appropriate book is an option.  Not long ago, I gave a copy of How to Survive the End of the World as We Know It, by James Wesley Rawles, to an experienced prepper who appreciated the wide variety of possible scenarios described in that book.  If you can spend more on a book, When Technology Fails: A Manual for Self-Reliance, Sustainability, and Surviving the Long Emergency, by Matthew Stein is a treasure trove still available on Amazon.
Another idea is to get a county road map, drive around the area of the one whom you plan to give it to, and add creeks, ponds, railroad tracks, and other landmarks in their area.  If your recipient lives near a county line, get a map for the neighboring county too.  You can find county maps at your Chamber of Commerce, online, your US State Department of Transportation, or a retail store. Matching sweaters, not so much.
Of course The Prepper Journal already has some ideas for the prepper who has all the necessities.  Think non-electronic entertainment options such as puzzles, board games, or books (the paper kind, not eBooks).  When our daughter came home from college, she introduced us to the board game Settlers of Catan which our family has enjoyed.
When You Don't Have Much Money for a Gift:
If you don't have much money for a gift, you could teach them a skill.  Look at your skills.  If you have skills in sewing, carpentry, woodworking, plumbing, public speaking, teaching, writing, first aid, or other skills, be assured that some need these skills around their home or small business.  You could offer to use your skill(s) to help them, or teach them how to do it, for a few hours, and your offer would be appreciated.
For example, you could offer to help them start a small garden, perhaps in a few containers if they live in an apartment.  This would be especially appreciated by those who like fresh, healthy food.
If you can teach, you can offer to tutor someone's child or grandchild.
If you're gifted in shooting, give a beginning shooter a homemade coupon for a personal lesson at the range.
Do you have a prepping-related book that you do not use anymore?  If so, it may be something that another prepper could find helpful.
If you know a prepper who needs another source of water, could you offer to help them set up a rainwater collection system?  Or repair their existing system if it's aging and in need of some tender loving care?
Another idea is to print an article from ThePrepperJournal.com to give, along with your offer to help them make progress on it.  For example, a family with young children could use help developing an emergency fire plan with home fire safety. If your friend depends on wood to heat their home in the winter, maybe something in this article, Safely Chopping Firewood could help them cut wood more efficiently, or you could offer to cut some wood for them.
Making a gift for someone is an old tradition that has become occasional but can be very personal.  One time, a friend wrote a poem for me about the situation that I was facing at that time, and it was one of the most personal gifts I have ever received.
I believe that the giving and receiving of gifts adds joy to our lives and enriches our relationships in the holiday season.  The Good Book says that God loves a cheerful giver.  May your giving reflect the joy and peace of this festive season.  Finally, remember that your relationships with people are more important than things.
Editors Note: Andrew McGuigan sent us a set of the cards and we found it a good teaching tools for preteens. Here is their statement:
BUG OUT BAG is a card game created by Andrew McGuigan, under the name 'BAZCARDS.'
Now available to buy at https://www.thegamecrafter.com/games/bug-out-bag
BAZCARDZ games are for players of all ages and aim to be both fun and tactical, with elements of information and learning. BUG OUT BAG focuses on one area of disaster prepping, which is often a necessity in parts of the world with extreme weather and natural hazards. We hope that this game can be a fun introduction to further survival education.