Editor's Note: This post has been contributed by Daren. If you have information for Preppers that you would like to share and possibly win a $300 Amazon Gift Card to purchase your own prepping supplies, enter the Prepper Writing Contest today.
---
There are many things that can cause you to miss the target when hunting, one of which is a misjudged range. Speaking of underestimated range, have you ever tried to measure a target's range and field miserably? If you have, then it might be time to invest in a rangefinder binocular.
The best rangefinder binoculars give you the best of both worlds. It is for this reason that I consider a rangefinder binocular to be an infallible asset to any hunter. Rangefinder binoculars are becoming more mainstream as more and more hunters continue discovering their usefulness.
So why are they so important to hunters? To answer this question, we have to look at what you get from a rangefinder binocular, which is,
Ease of use
Ask any hunter who uses rangefinder binoculars, and they will probably tell you that they are easier to use than laser rangefinders. Rangefinder binoculars weigh more compared to ordinary binoculars. The added weight gives them stability and makes them easier to hold. The two-hand grip of these binoculars guarantees more accurate range readings. Additionally, with a simple push of a button, you are able to get the range of your target within seconds.
Two-in-one
As a hunter, you will have to carry some accessories to aid you in your hunting. These accessories can include a rifle or bow, a binocular or a scope, and a rangefinder. Transitioning from one device to another can be time-consuming.
For example, let us say you have spotted an animal with your binocular but do not know how far away it is from you. The logical thing to do is pull out your rangefinder to measure the range. This process can be time-consuming.
With a rangefinder binocular, you spot the animal and are able to know how far it is when you spot it. Binoculars with a built-in rangefinder often have an impressive range. There are rangefinder binoculars that will offer you a 1000 to 2000 range. Thus a rangefinder binocular is a two-in-one device that will serve you exceptionally well.
Overcome rangefinder shortcomings
A rangefinder functions by sending out a laser beam. The beam hits the intended target, and the rangefinder measures the distance of the beam's reflection. This essentially means that rangefinders do not work well in thickly forested areas. With a rangefinder integrated into a binocular, this problem is solved.
With a binocular, you can scope an area before turning on the rangefinder. Scanning the area first helps you know if there is anything that might be in the way of the laser beam. This increases your chances of hitting the target and getting an accurate range.
Also, you will be able to identify vantage points where you can get a more accurate range. The binocular's ability to give you a clearer view of your surroundings enhances the rangefinder's performance. Thus, the two devices built into one gadget complement one another and improve your hunting skills and reduce the chances of you missing.
Angle compensations & ballistic information
Apart from having a built –in rangefinder, most rangefinder binoculars come fitted with an angle compensator feature. This comes in handy when you are aiming from a tree stand. Some models come with pre-programmed ballistics charts that will be useful in your hunting.
This information allows you to adjust your shot based on the ballistics curve of your firearm's bullet. This information integrated into the binocular improves your accuracy and minimizes guesswork. The ballistics technology found in some models consider factors such as temperature, air pressure, and ballistics curves. This is the kind of information that professional snipers rely on when making a shot. Therefore, with a rangefinder binocular, you will have this information at your fingertips.
Preparation
Most animals are creatures of habit. This means that they frequent specific parts. This is a weakness that you can exploit. To do so, you will need first to scout the specific areas where your prey frequents. Next, you will need to identify the perfect vantage point to take the shot.
With a rangefinder binocular, you will be able to scan and get a range simultaneously. You will need to identify a good spot from where you will stalk your prey. The binocular will come in handy when measuring the range between this spot and your prey's preferred spot.
This preparation is best done during the day, and the hunting is done at night or dawn. At night, light conditions are not so good you will be able to know where to go to make a kill.
Avoid getting close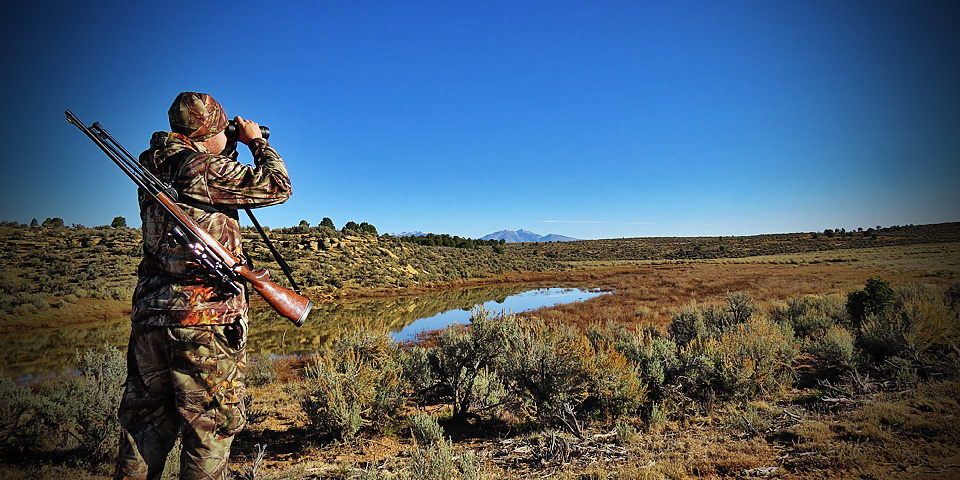 One of the biggest mistake you can make as a hunter is getting too close to your prey. Animals have heightened senses and can hear things at longer ranges than we can. With a rangefinder binocular, you will be able to stalk an animal from a safe distance.
Some of the best rangefinder binoculars out there offer a range of up to 1300 yards. It is hard to spook an animal off at 1300 yards. Average rangefinder binoculars normally have a range of between 600 and 800 yards. Thus, a rangefinder binocular minimizes the chances of you getting too close to make a shot. Also, this binocular helps improve your long-range marksman skills.
Continuous scoping
Every second count when you are hunting. Thus, taking your eyes off your prey for even a minute can change things. The rangefinder binoculars are designed to be sophisticated. Thus, there are models that feature an in-view LED display. The latter display usually resembles a fighter jet's display area or HUD. All crucial information is displayed on the LED display. This way you can keep your eyes on your prey for a longer period of time.
Additionally, binoculars have a wider field of view compared to rangefinders. Thus, a binocular's eyepiece can accommodate more information than a rangefinder's eyepiece. Therefore, you get all the information you need clearly.
Conclusion
Rangefinder binoculars are the future, and it is estimated that in the next decade or two, rangefinder binoculars will render conventional binoculars obsolete. In summary, as a hunter having a rangefinder binocular will make work easier for you.
About the Author: Daren Rifen Founder of Binoculars Guru is an enthusiastic hunter with over 10 years' experience. A native of Texas, Daren hunts everything from whitetail deer to ducks. Daren has mastered different hunting techniques including archery, using rifles and handguns. As a native of Texas, Daren learned his hunting skills from his father, who learned from his grandfather. He possesses an extensive knowledge of everything firearms, hunting binoculars and riflescopes. When he is not hunting, Daren is either hiking or fishing.