Editor's Note: This post is another entry in the Prepper Writing Contest from Huples. If you have information for Preppers that you would like to share and possibly win a $300 Amazon Gift Card to purchase your own prepping supplies, enter today.
---
The mantra of Guns, Bullets, and Beans is a reasonably common one but bullets go both ways. Almost everyone who has served in active duty involving gunshot injuries or has been involved in treating them will tell you never to engage in a fire fight unless you have no other choice. Rather than focusing on building a fortress to defend your supplies it is safer to build a home you can walk away from without compromising your supplies or getting on the wrong end of a gunshot wound.
Rule One: Do not get shot.
Rule Two: Get shot in a leg or arm without any bone involvement.
Rule Three: If you have to be in a fire fight make sure you kill them all before they can return fire.
I have never been shot and I have only had two guns pointed at me but I have nursed a fair number of shot ICU patients over the years. In SHTF things will be different and trauma care for shooting patients (I dislike the term 'victims' as it implies powerlessness) needs a hard look at especially if you live in an area of the world that has a lot of armed people around you. This article will have some biology (science is fun!) and I am not talking about body armor or types of ammunition (not my specialty but here are penetration estimates. If Pat uses them there will be graphic photos and I hope these will not trigger anyone but knowledge is power.
The article is long and I am not going into lung, abdominal, brain care as basically you are likely dead. Please look up lung injuries as knowing what tension pneumothorax, septic shock, and paralytic ileus are good ideas.
Basic Field Care if you are Shot
Avoid being shot again. Disengage and get to the safe area. All home and bug out locations should have a stocked and safe area away from the main buildings that is believed to be safe in the event of an attack.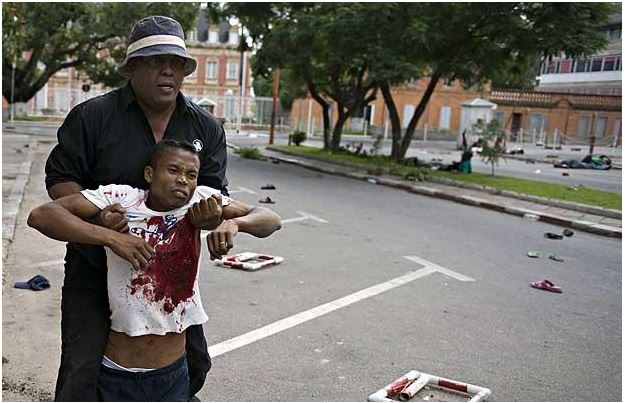 Do not scream "medic!" or "I'm hit!" There is a fire fight going on so do not give tactical information to the enemy or distract your side. Everyone on your team is a field medic and has practiced for this so no one helping you needs to be screaming for help either. You and/or they deal with it until after the fire fight. Stay off the radio until the fire fight is over and give no tactical details if summoning help. "Jimmy I'm at X and I'd like to see you" is better than "Jimmy! They shot me in my leg. It hurts. I need help now"
Look for the entrance area and check if there is an exit area. Survey yourself quickly for other injuries. Entry wounds can look insignificant and exit wounds can look dramatic. The actual issue is what was in the way and what is happening beneath these entry and exit points.
Cover the wound's entry and exit points with thick cloth or blood stopper bandage as soon as you can. Limit the blood flow by partial or a full tourniquet if you have knowledge to safely use one. Blood looks dramatic and it is hard to assess the amount. Pulse rising, blood pressure dropping, consciousness failing are signs of massive blood loss. Without intravenous infusions and/or blood transfusions you will likely die. I know some are prepping to give blood transfusions but this is a really dangerous and specialized intervention. Giving a basic intravenous of normal saline (0.9% sodium chloride) is simple and easily learned. Both are illegal to use but not to learn unless you are a medical doctor.

Leave this initial thick pad on no matter how wet it gets. Add more and do not remove any. I do not feel a blood clotter like the Israeli Bandage should be applied at this stage unless you have several in reserve. If you have one only consider using it after the next phase of care or buy more than one. Technology keeps evolving but if you use it can you remove it without an Operating Room?
If possible elevate the wound above your heart. This lowers the blood pressure locally and should decrease bleeding. Realistically it probably will be easier to raise your heart above the wound site.
If bone is injured splint it as it is for transport and apply the initial pad over the splint.
If it is not an abdominal injury drink as much water as you can and keep drinking one pint an hour. Sports mixes are a good idea as well. If abdominal you will likely die but stay nil by mouth (NPO) as you might get lucky and abdominal trauma is always worse if you take anything by mouth.
It is going to get painful quickly so use the brief pain-free period to move away from the bullets and get to safety.
Basic Field Care if you are the Medic
Yeah! We won and all the bad guys and girls are dead. As in all First Aid situations assess the area for possible threats prior to giving care. Any snipers waiting as your team-mate was screaming for help giving away his location? Has the shooter who did the hit been dealt with or are you next? Consider dragging the injured away from the scene before doing anything else.
When safe have a look and verify if they are alive or just barely alive? If dead or barely alive then do not waste time, energy, and supplies.
Reasonable signs of potential viability are that they are conscious and can talk to you in sentences. If they are able to do this has the wound caused abdominal contents to become free?
Sorry but without a surgeon and a good hospital/surgical set up your friend's dead if you can see bits of their bowels. Brains oozing out of the wound, eyes, nose, or mouth are equally untreatable in SHTF so do not waste supplies on a futile attempt.
Then follow the steps you would take if you had been shot. Starting to go beyond these in the field is just not a good idea. Get them to the safe zone.
Safe Zone Preliminary Care
Everyone in your group should know how to do this as you might have to do it for yourself.
Unlike every film you have ever seen getting shot is extremely painful and shock is likely for the pain alone even if blood loss is minimal. Get calm and practice deep breathing techniques to slow and steady your breathing and your heart rate. If you have alcohol available do not drink it if you are shot. If you are the medic have a small amount. Seriously, I have a small bottle of brandy in my kit for me to swig if I am facing a major injury and it can also be used to sterilize instruments and your hands.
Okay. Now what are we facing here? If they are unconscious check for other wounds as there are many cases where the obvious and none fatal wound gets all the care while the insignificant and overlooked wound slowly kills the patient.
Strip them naked. Use scissors or a knife but get them fully naked unless they are conscious and are sure they have only one wound. Even so I am stripping them and doing a quick body search. Note where all the wounds are and where you see swelling and bruising. Is this survivable? If there is flank and/or side deep bruising from an abdominal wound likely means the spleen is damaged if on their left side or the liver if on their right side. Frankly they are going to die unless you can do surgical repair which is highly unlikely and is highly skilled. Wounds that go through the body are more survivable than those where the bullet remains inside but a through shot going through the deep abdominal area or chest is likely not one you can treat. No worries they will die quickly from blood loss or lack of oxygen.
If the decision to treat is made then clean the area around the wound and your exposed arms and forearms with something. Clean water if that is all you have or use the remaining brandy to clean your hands carefully. Soap and water is awesome hence having a stocked safe area previously set up for major injuries away from the areas likely to be in a fire fight is a good move. You can use multiple different liquids but the aim is to pour the external stuff AWAY from the wound and never towards it.
Having done that move them onto a fresh laundered sheet or have one placed under them. If possible have the room warm to avoid cold shock but you need the area naked to do this care. Avoid using beds as they are too low and the mattress will be ruined. A massage table or a folding plastic table is a good idea.
Using a powerful flash light (have a head lamp if you cannot get an assistant) pick out and remove everything you can see in the wound that is unattached to the patient. Clothing and bullet and bone fragments have to be removed or infection will occur for sure.
Now reassess blood loss. Is it arterial (bright red maybe but you can see it pulsing) or venous (dark for sure and steady stream)? If arterial use a tourniquet between the wound and the heart if possible, get sterile gloves on, and go in. Find the sight of bleeding and suture it. This can result in limb loss but most arteries can be sealed and blood flow can take alternative routes. At a pinch you can seal it with a hot piece of metal from a fire but frankly you likely will have the patient die of shock. This is not the movies. Still I'd consider it for a wound in a limb that cannot stop bleeding no mater my digging around in there.

Yes you can use back powder but only if it is a limb and the bleeding cannot be stopped. This will hurt and inflict a severe burn on top of the other injuries.
Set bones if you can and have to at this stage. The wound is as clean as you can get it and you have flushed it out with loads of cooled boiled water after adding a bit of salt. 0.9% sodium chloride is normal for the human body but flush it out a lot until most of the bleeding has stopped. You have removed every bit of dirt, clothing, and bullet you can see in there. You have stopped all major bleeding. Doing this on yourself is unrealistic despite the movies so everyone in your group needs to know how to do this not just the doctor or the nurse. They might be the one shot.
Start broad spectrum antibiotics and ensure 3-4 liters so fluid intake a day. Use the intravenous if you have to but keep them hydrated.
Amoxillin
Levofloxacin
Gatifloxacillin
Streptomycin
Tetracycline
Chloramphenicol
If bone involvement it is very important to use a broad spectrum antibiotic to avoid issues later on with chronic bone infection. If you have antibiotics then use them if the wound penetrated deep into the body. Hopefully their tetanus is up to date especially if soil has entered the wound which in SHTF is likely from clothing in a fire fight. Antibiotics will not help tetanus and it basically kills people horribly.
Ongoing Care
Evacuate them to a hospital with a trained doctor as soon as possible. If you can do this within 60 minutes you dramatically increase their chance of living. Okay if you cannot then try this!
Wound Care
If the outside of the dressing is clean and dry and there is no obvious smell, swelling, or severe pain then leave it on for 7 days. Do not peek!
Change the dressing using clean materials if sterile ones are unavailable. Laundered sheets work fairly well for this so have a supply kept aside for health care use. Unopened packs of baby wipes can also be considered very clean. Wash your hands and arms well with soap and water before and after giving all care and especially wound care. You do not need a face mask but do not breathe into the wound even if you are wearing one. The outsides of face masks are extremely contaminated and the human mouth is as well even if you floss frequently. Use cooled boiled salt water to soak and dressing that are stuck and take them off gently.
If the wound is bulging or leaking pus (yellow smelly stuff) then remove one or two sutures and let it be open to drain. Be aware that 7-14 days afterwards this can occur and the entire wound site might burst open. Flush everything with loads of cooled boiled salt water and attempt to push gently back into the body and then suture really well. Probably will die but worth a try if you have got this far. Open it carefully being sterile if possible and remove obviously dead tissue and wash everything out. Have a good look for any debris you missed the first time you treated this. This is a wound infection and needs 12-24 hour dressings until it heals (once or twice a day). Change the antibiotic given if you can at this point.
Do not use triple antibiotic cream, honey, or anything inside the body. Just don't ever no matter the temptation. Flush with cooled boiled water and if open and you need to pack it use cooled boiled water-soaked sterile gauze.
General Care
Use limited bed rest. However sick they are turn them every 1-2 hours in bed and get them up in a chair as soon as possible and totally ignore their complaints about this. Immobility kills. Keep them hydrated well and use higher protein foods if available. Add a stool softener into the mix early on if they are immobile. Metamucil works fine if used early on. Let them rest a lot and avoid strain on the wound area but also make them feel useful. They can cut up clothing for toilet paper and other chores so make them earn their keep.
They will out of commission for a long time so have stored food available and firewood and drinks they can reach even in a weakened state. You might not be able to do this for them.