I frequently highlight the need for water when you are preparing for emergencies. This simple, yet vital element of life can't be ignored for long, so I recommend a multi-faceted approach when it comes to making sure you always have enough to drink. As long as the tap is running and the source is not dangerous to your health, you should be fine. That works great normally, but we all know that stuff happens. Water mains break, sources become contaminated or the disaster can render the pumping stations inoperable due to personnel or equipment problems. Your job is to keep any of those situations from impacting your ability to provide good clean water to your family.
If you are in the safety of your home you can store water in large containers so potential disruptions don't affect you as much. You can collect and filter rain water from your roof normally or in emergencies, public sources like ponds, streams or rivers will work for a large percentage of us assuming you have fairly consistent access to them. This is usually enough if rainfall and those water sources are prevalent.
But what if you live in a drier climate and you are forced out of your house due to some emergency? Or what if you are lost in the wilderness and your source of water is depleted?
A reader of the Prepper Journal, James sent me an email asking for more guidance on water for the millions of preppers who actually live in Phoenix or other desert environs. I do appreciate the question and although I don't live in the desert (so this subject is a little out of my imagined wheelhouse) I figured that this topic was very worthy of research for my own information as well. Below are some of the ways I knew about in addition to new ways I learned to find water in the desert. I know that we do have some readers (and authors) who live in Arizona who will be happy to fill in with their own ideas in the comments below also. So, without further ado, let's get started.
Where can you find water in the desert?
I have been to Phoenix, AZ before on a business trip to a nice resort type of location in the warm days of July. If I did not fully appreciate it before, that trip really reinforced my gratitude for Willis Carrier, the inventor of modern air conditioning. To be honest, the temperatures really weren't that bad in the evenings and mornings. I was inside during the day so it isn't like I was too inconvenienced by the heat but with temperatures over 105 degrees, I know that you really wouldn't want to be more than arms reach away from a good water source for very long. For Preppers, this type of climate does impact the importance of water in your survival plans. The heat and low humidity (but it's a dry heat!) seemingly evaporates your sweat instantly so I didn't even see the traditional outward signs of moisture loss, but the ready access to water everywhere reminded you to keep hydrated.
This was reinforced doubly when my wife and I took a drive after that up to the South rim of the Grand Canyon. I had planned a short hike into the canyon and in my research; I was frequently admonished about my hiking plans and water supply. Because of its altitude, the rim where you begin your hike down into the depths of the Canyon can be as much 40 degrees cooler than your destination. You start out at the top of the Canon and it is a relatively pleasant 80 degrees, but by the time you reach the bottom near the Colorado River, the temperature can be as high as 120. To make things worse, the hike back can take you twice as long as the trip down so if you foolishly consume all of your water going down, you won't have any for the much more strenuous hike back up. Our plans weren't to even hike all of the way to the bottom, mainly because I didn't want to have to carry 2 gallons on my back.
Had I been in another, flatter desert environment and found myself without water, there are some tips and tricks you can try.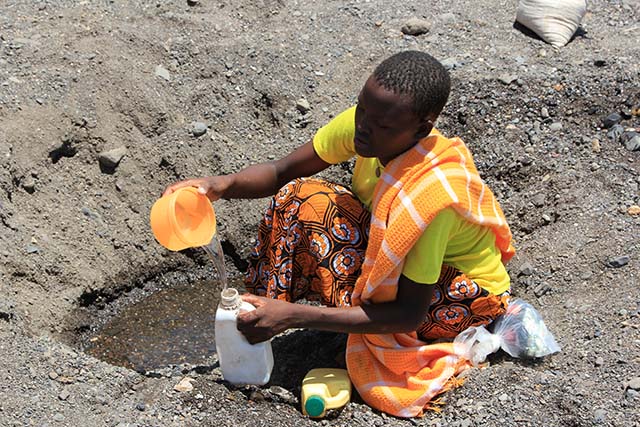 North facing shady areas at the base of cliffs – There is water in the dry climates like Arizona. Actually, the main source of water for Phoenix comes from three rivers and they bank surplus water underground, but if you were out in the wilderness it might be harder to find. One thing to remember is water goes to the lowest point which is almost always underground. Even when there is no water on the surface, you can often find it where it used to be. In lower areas, near the base of cliffs, you can dig down and find water occasionally. This water has run off the face of the rocks and settled below the surface. If you find a low spot that looks like the sand is moist, you can dig down and sometimes find plenty to drink. This water will need to be filtered for sediment if nothing else but could save your life.
Watch where birds and insects travel from/follow animal trails – Birds and insects like humans need water to live. You can watch the path that they fly from in the early mornings and evenings for a clue as to where a source of water may be. Animal tracks can be used to follow a path to a water source as well and you may find a watering hole used by the native wildlife. To get a clean source without any type of water filtration you can dig a hole 9 feet away (roughly) from the water source and allow cleaner water under the surface to re-hydrate you. This water, filtered through many feet of sand and silt should be free of any contaminants that the water on the surface of the watering hole would have. Again, I would always try to keep some form of water filtration device with me if I was going out into the wilderness. It's just one less thing I have to worry about.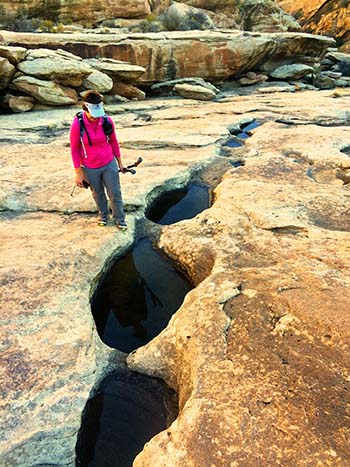 Rock pockets and depressions – Rain is routinely collected in depressions in rock surfaces. Some of these can be large enough for you to swim in. If you are searching for water, it is a good idea to get up a little higher up to see if you can see a source like this. Just one good-sized hole could be enough to keep you in water for a very long time. There are some of these large depressions called Tinajas, that have petroglyph markings on them and it is thought that some of these may have been ancient directions to denote good places to get water. If not, at least they are really interesting to look at.
Where vegetation is living/broad-leafed trees – If you can find trees growing in the desert, it's a good bet they have tapped into a source of water. Broad leafed trees like cottonwoods are an indicator that you can dig down to their roots and find water suitable for drinking. These trees could be growing in old riverbeds that still have water flowing way beneath the surface.
In dry river beds – Like the example above, just because there is no water on the top, you may find water by digging below the surface. The drier it has been, the less likely you are to find water but look for a lower place in the riverbed, one where the water would have likely stayed there the most time and dig down. This is another reason to have a handy bandanna with you to soak up water and squeeze it into your mouth.
What not to do if you are looking for water
Solar Still – Now I have heard about solar stills for a very long time. I think even in the Army we discussed these as a good source of water. In a desert however, you won't get the same amount of return for your effort. Digging a solar still will expend a lot of calories and effort and you won't get much moisture out of the ground. If you have plenty of green leaves to lie in there, you still have to wait a whole day. If you are thirsty it is better to stay in the shade than dig a still.
Forget the cactus – You have probably seen the cowboy chopping open the cactus and drinking from it. Trying this yourself can get you killed. There is only one type of cactus you can drink from and only one variety of that one cactus. The barrel cactus looks like its name and the Fishhook barrel cactus has water in there that isn't toxic. It isn't like a bottle of Evian though and you could still get sick. One alternative is to eat the fruit off the cactus. Prickly pear can be roasted to get rid of the little hairs and spines and can provide some moisture.
Don't drink your own pee or anyone else's for that matter – If your body is straining with lack of hydration, the last thing you want to do is force your kidneys to work overtime on a strange substance. Yes, your urine is supposed to be "sanitary" but this shouldn't be a trick you use to re-hydrate yourself even in an emergency. What you can use it for is evaporative cooling. Soak that bandanna in your urine and wrap it around your neck to cool off somewhat. Then make a mental note to wash that bandanna.
So there are some ideas I have for how to find water in the desert. I think it goes without saying that as much as possible, you should plan for water well before you find yourself in a situation that would require you to use any of these methods above. If you are, hopefully this will help.